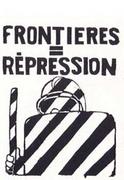 TRAVEL WARNING FOR PERSONS WITHOUT DOCUMENTS
1st – 15th April in airports all over Europe!
"Amberlight 2015″ is one of these "joint police operations" (JPO) that happen under each half year EU presidency (except Greece, they did not make any JPO when running the council last year). The operation is a bit similar to "Mos Maiorum" from October 2014, but just a bit. Now they are targeting not people without papers in general, but over stayers" (people that stay with official papers in the EU and don't leave even if their visa is not valid anymore). AFAIK the controls will NOT happen in streets, trains, public places like in "Mos Maiorum". In documents it is explained that controls will be carried out only at airports, and only departures (not arrivals). "Amberligt 2015″ may be for getting statistics of people "extending" their visa. These data is then used by frontex for their "risk analysis". As you might know the EU is setting up a large new database and control system "smart borders" which is against "over stayers" as well. One might see "Amberlight 2015″ as a pilot. This is what documents explain. ofcourse there still might be a hidden agenda.
Quelle: No Border Niederlande
https://no-border.nl/travel-warning-first-2-weeks-of-april-eu-police-operation-amberlight-2015/#de