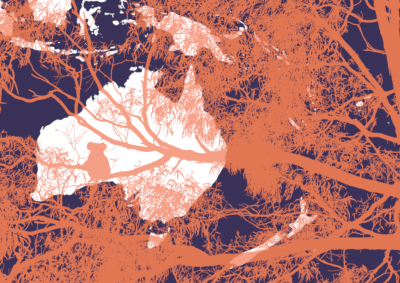 >> Am 2. und 4. Donnerstag im Monat um 13:06 Uhr <<
---
'Sandrew' Milne-Skinner have returned from an extended trip to Australasia. So, the fortnightly schedule of Poetry Café over the next three months covers Singapore, Australia and New Zealand.
Singapore: poems by Kipling, Conrad and Noel Coward. Readings from Somerset Maugham, and about the 1942 British surrender to the Japanese.
New Zealand: Maori poems and songs. Readings from Katherine Mansfield, C.K. Stead, Janet Frame, Alan Duff and Patricia Grace.
Australia: the bush ballads of Henry Lawson and Andrew 'Banjo' Paterson, including Waltzing Matilda and Ned Kelly, as well as poems by Kenneth Slessor, Judith Wright, David Malouf, and Clive James. Aborigine culture and poetry also feature strongly: No more boomerang/ No more spear;/ Now all civilized – / Colour bar and beer.
The poet Dorothea Mackellar writes:
I love a sunburnt country,/ A land of sweeping plains,/ Of ragged mountain ranges,/ Of droughts and flooding rains. … and a land of raging bush-fires?
Do join us as we go exploring. All our programmes are punctuated by music and song!
Sandra and Andrew Milne-Skinner
---
Missed a programme? Listen here: www.freie-radios.online/sendereihe/poetry-cafe
Pic by Hemma Übelhör/Gordon Johnson auf Pixabay/Map Ecozones by Carol auf Wikimedia